Currently, I am home on the Sunshine Coast of Queensland, in home-isolation with my husband Bill, which I am sure is the same for so many, and no doubt, it is beginning to take its toll. However, we must remain thankful for what we do have. We have food, water, and the knowledge that there is help when we ask for it, neighbors, friends, and should it be necessary, medical support from those who do a most incredible job.
My extended families are the many young women we have been blessed to lift out of poverty, early marriage, early childbirth, and life ahead raising their children in unimaginable, overcrowded slums in extreme poverty. Anyone of you who has volunteered with us and spent time with the young women in our year-long program will agree that the transformation from the day our students first arrive, to the confidence, well-trained women who return to their families after graduation is life-changing.
I feel very, very blessed to have two tremendous women keeping everything running smoothly in Kenya. While it's uncertain when I will be able to travel back to Kenya, we are able to hold our daily morning meetings via WhatsApp. Isn't modern technology fabulous?
I've asked Beryl, who keeps the project ticking so efficiently on the administration end, to write a few words about what they are experiencing as a result of Covid 19 in Kenya.
Stay vigilant, safe, and in your home. Isolate for your safety and those of your family and friends, for us all.
Take care,
Warmly,
Jennifer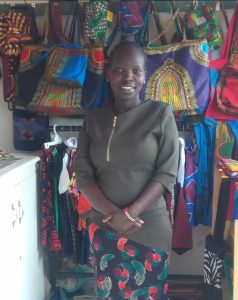 Hello Everyone,
They say that when it rains, it pours, and calamity comes as its brother. The dreaded corona virus finally found its way into Kenya on the 13th of March. Kenyans who rely on a daily wage in markets or through manual labor suddenly find themselves struggling to put food on the table, as shops closed down and economic activity came to a halt. The sectors include small traders, jua kali, hotel workers, hawkers, transport sector to mention but a few. Most of these people are not paid monthly but paid as they work. A lot of shops especially in Nakuru town have been shut because of the fear of the virus. I will let you calculate how many families have been affected. Just the other day, on the news briefing, a middle-aged person was highlighted eating a plate of ugali and cat meat. When asked he frankly told the journalists that he has stayed for three days without food and to slaughter the cat and have it has a meal. A lot of families survive on one meal per day.
Ø Housing; since a lot of people, especially casual laborers are unable to work and get the money they have been reduced to beggars and refugees in that the landlords evict them because they can't pay rent.
Ø Cost of Living; the cost of living has gone extremely high, this includes food prices and even transport. When using matatu, one pays for two. This is after the government directive for 14 seater matatu to carry 8 passengers, and vehicles that carry more than 30 passengers to carry not more than 60% of their capacity. Currently, the fabric we are using to make the face mask for our free giveaway program, we have to order from Nairobi and the prices have doubled, so that is the entire situation on other items such as spare parts, food, and other necessities.
Ø Education sector; since the epidemic, the schools have been closed indefinitely and the government through the internet, televisions, and radios decided to give online lessons to students. But unfortunately, a lot of students, especially in the rural areas and in the slums will not benefit from this initiative simply because they don't own the internet, television, radio, or electricity. Currently, a lot of communities, especially in Nyanza and Elgeyo Marakwet have been displaced because of the floods, thus difficult for a student in such a circumstance to listen to the daily lessons.
Ø Cost quarantine- This is a big nightmare for the locals, according to them it's better to be in jail than in a government quarantine facility. People under quarantine facilities complain of poor infrastructure, poor sanitation among other things. People who qualify for quarantine include; people who have not put on face masks while in public, people found outside their residence after 7 pm, and when you have come in contact with a corona patient then this qualifies you to be taken in a forced quarantine for two weeks. But all this is at your cost. It charges Kshs. 2,000 per day.( US $20,00). If you're unable to pay the Kshs 2,000 you are sentenced to 6 months in jail.
When the government ordered schools to be closed last month, illogical as it was, we were ordered to send our students back to the slums they grew up in. We were able to convince the area chief to allow our July class to remain. Sadly, we had to send the December class home. Martha agreed not to continue with their tailoring course. Instead, they have been busy making face masks to be given out to the needy in our community.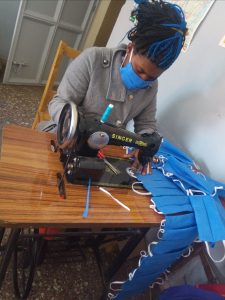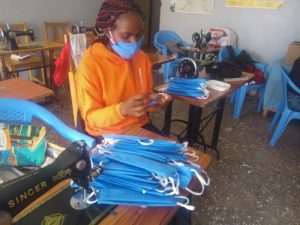 The first production of 500 masks was given to our local area chief and police officers, who had been serving our community without personal protection.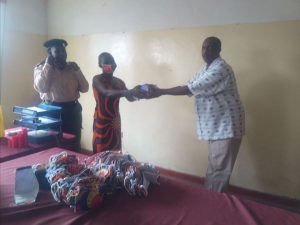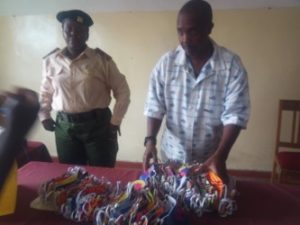 By the end of the week, we were able to deliver an additional 600 masks to be given out for free by our area chief to the neediest in our community.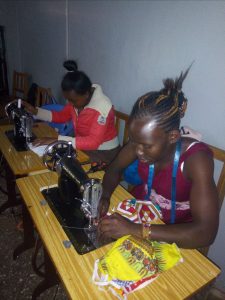 From our family to yours, we wish you safety, we are there for you, in hope and prayer, and one day soon we can be proud that we came out of this darkness because we stood side by side, strongly, for each other.
Asante Sana,
Beryl