As we continue with our emergency food and face mask program I can't express how very grateful we are for your generous support. We have been privileged to make and distribute thousands of face masks throughout our community. Each week we have been able to assist families in need of food assistance. Unfortunately, until we are able to raise more money, we can only afford to assist around 60 families per week with food hampers.
Our main focus in this period of COVID 19 is to donate food and face masks to vulnerable and needy people in the county. Most of the residents in Mang'u area are casual laborers who are paid after working. With the current pandemic, the residents are unable to get employment and feed their families. Some of the families have been going to the area chief to beg for food and a lot have been foregoing meals. Earlier this week Springs of Hope Foundation – Kijiji Mission, went to Mang'u area with the sole purpose of donating food ( beans and flour) to vulnerable families. Our target was the elderly, terminally ill patients, persons with disabilities, vulnerable, and child-headed families, all these cases were identified with the area chief together with house cluster leaders. So that we can maintain order and be assured our donations go to the neediest, we will continue to do the food distributions at the chief's camp. Some of the cases that we came across that touched our hearts included;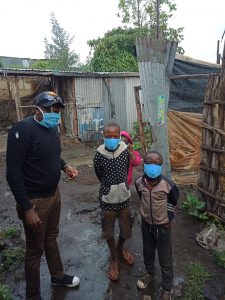 Child headed families- There were several families in these categories but the most vulnerable of all was a family of six. The firstborn being a form two student at a nearby secondary school. Their mother went to Saudi Arabia to work as a maid in January 2020, but she has never sent a penny home to meet her family's needs. This therefore left, Irene Joshua a fourteen-year-old girl, to step into her mother's shoes. Irene together with her five siblings lives in a tiny one-roomed, mud-walled house. They pay Kshs. 300 (US $3.00) rent which they can barely afford. Irene juggles between school and menial work to support her siblings. It's long since they talked with their mother thus they don't know how she is fairing in the Gulf and this clearly is disturbing to them.
Vulnerable families- The area chief also identified a case of a woman who is approximately 80 years, a widow who is ailing from asthma, and high blood pressure. The case is vulnerable in that, the elderly woman is the sole breadwinner to her six grandchildren. With her advanced age and sickness, she has been left at the mercy of neighbors and well-wishers to stay alive. The family lives in a rented mud-walled house in Mang'u area paying rent of Kshs. 500 ( US $5.00) per month. The elderly grandmother could not manage to come to the pick-up location to collect her food hamper. This prompted the team to visit her home. She could not hold back tears when her grandchildren brought the food hamper to her.