Imagine you're elderly, handicapped, or a single parent caring for your disabled child…with no government assistance! That's the predicament the recipients of our food hamper and face mask program live with. Normally they rely on the kindness of neighbors. Due to the COVID 19 pandemic, the neighbors are all out of work and not receiving an income. They too are struggling to feed their families daily.
It's been a month since I held my Facebook Giving Tuesday fundraiser, which was targeted specifically toward our food hamper program. I'm so grateful to everyone for making it so successful. We raised enough money to keep the program going for another 5 weeks. We have never needed your help more than at the present time. Thank you so much. Warmest blessings, Jennifer Hughes-Bystrom Founder/CEO Springs of Hope Foundation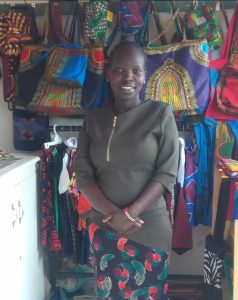 Hello Everyone,
They say that when it rains, it pours, and calamity comes as its brother. The dreaded coronavirus finally found its way into Kenya on the 13th of March.
Today we make reference to the bible quote from the book of 2 Corinthians 9:6-8 which says "Each of you should give what you have decided in your heart to give, not reluctantly or under compulsion, for God loves a cheerful giver. And God is able to bless you abundantly, so that in all things at all times, having all that you need, you will abound in every good work". The teaching has always motivated the Springs of Hope Foundation to give back to the needy in our communities especially in these trying times.
This has been incorporated in our work plan where we have dedicated Thursday, to be the day we give out food hampers to the vulnerable households. It's a day we all eagerly wait to give a smile and hope to the people affected in one way or the other by the COVID 19.
Yesterday we visited community members from Mawingo area in Nyandarua County. Mawingo is close to two other areas we had previously given out food hampers, so our faces we not that new.
Just when we were about to reach our first destination, our vehicle got stuck in the mud. It has been raining for some weeks now. The funny thing, we only had one gentleman in the car who happened to be the driver, Martha's husband Ephantus Wachira, who volunteers to assist us every Thursday by offering his vehicle for our distribution. So we took the initiative and alighted and tried to push the vehicle from the mud. We were five ladies, we tried and tried and nothing happened. Martha decided that it was time to head off down that muddy road and look for help. We all breathed a sigh of relief when some community members came to assist. They pushed and pushed and finally our car was out of the mud. We were all delighted; we thanked the community members and continued on our journey. We finally reached our first distribution spot. Here, the village elders/ cluster leaders had selected thirty of the most vulnerable aged/ elderly in the area. The group was seated, maintaining the 1.5-meter rule; we introduced ourselves and shared with them some motivational talks. From their faces, we noted how happy they looked. These people were displaced from their original homes during the post violence elections in 2007, the place they relocated to is the remotest parts in the area where they have impassable roads, no social amenities e.g. hospitals and schools. The communities in these areas have been forgotten by their leaders, they only come in handy when the leaders want to get votes to vie for top positions in government. Once the leaders get the position they relocate to Nairobi without doing any development project in that area. Their faces were all covered with smiles when we gave them the food hampers. The food that we gave out could take them for two weeks.

After a successful food distribution exercise, we went to the second distribution point at Mawingo chief's camp. Here we were to give out food to people living with disabilities and vulnerable households. On our arrival, we introduced our selves to the area chief. The chief congratulated the organization for the noble initiative and welcomed us to the area. The village elders present had made a list of all the beneficiaries. We gave out the food hampers but there are some beneficiaries whose stories touched me and I would wish to share.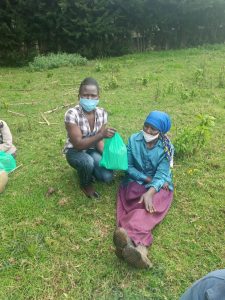 There was a woman by the name Grace Wanjiku, Grace is 52 years old and a small scale farmer. She is married and has been doing manual jobs to fend for her family. She has four children. Out of the four, three are physically disabled and the other one passed on three years ago. The three are aged 34, 30, and 28. This has left her as the only sole provider for her family. Her husband is old and can't do tough jobs because of his age.

Another case was of Daniel Kariuki who has a disability on his right leg. He is unable to find a job to feed his family. He has eight children. Five are in school while the other three are young and at home.

Most of the families that we gave food hampers to have no stable jobs and therefore depend on manual jobs. They are paid when they work; therefore they all live from hand to mouth, while others go for a day or two without a meal. The families were very happy and appreciated our organization for the support. We are all so incredibly grateful for the support you have given us over the years, and much more so during these unprecedented times. God bless you abundantly,

Beryl Adhiambo